Click image for larger view

Click image for larger view

Click image for larger view

Click image for larger view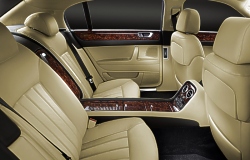 Click image for larger view

Click image for larger view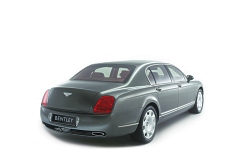 Click image for larger view

Click image for larger view
The new Continental Flying Spur is the fastest four-door in the company's history, and the fastest in the world, with a top speed of 195mph. It marries the excitement, power, refinement and craftsmanship of the Continental GT with enhanced luxury and space to provide a supreme combination of performance, style and comfort.
The launch of the Continental Flying Spur is a further step forward in the revitalisation of Bentley, which began in 1998 with significant investment in Crewe, the company's design, engineering and manufacturing headquarters.
The Continental Flying Spur was created at the state-of-the-art Crewe factory, where a 550-strong team of engineers has worked alongside Bentley's renowned designers, craftsmen and craftswomen. Access to parent company Volkswagen's worldwide engineering test facilities has also been of prime importance to the development of the car and the Continental Flying Spur has benefitted from the use of the group's advanced windtunnels, proving grounds and prototyping facilities.
"The Continental Flying Spur is a brilliant example of how to match world-beating technologies with renowned craftsmanship," says Bentley chairman Dr Franz-Josef Paefgen. "It is a performance car but not at the cost of comfort and as such represents a unique proposition – a sumptuous and spacious four-door Grand Tourer with the heart and soul of a high-performance coupé."
An all-new four-door Grand Tourer born of the Continental GT coupé that blends peerless Bentley craftsmanship and design with modern technologies.

Inspired by the 1952 Bentley R-Type Continental and 1957 four-door Continental Flying Spur, from which the new model takes its name.

Exhilarating supercar performance thanks to a top speed of 195mph (312km/h) and a 0-60mph time of 4.9 seconds (0-100km/h in 5.2 seconds).

Powered by a 6-litre, twin-turbocharged, 12-cylinder engine engineered and built at Bentley's factory in Crewe. Tuned to provide not just a massive 552bhp but also the legendary Bentley wave of torque from low revs.

A high-tech, all-wheel-drive system for exceptional stability and grip in any conditions is driven by an advanced six-speed automatic gearbox with paddleshift controls.

The Continental Flying Spur shares the massive braking system introduced on the Continental GT coupé. The 405mm ventilated front brake discs are the largest on any production passenger car on sale today.

Spacious rear legroom provides total comfort for all passengers with a five or four-seat layout optional at the time of purchase.

All expected technology and feature content in the Continental Flying Spur comes as standard, meaning customers only have to choose options in order to personalise their car, rather than complete it.
The new Bentley Continental Flying Spur will begin its global roll-out from April 2005.