Click image for larger view

Click image for larger view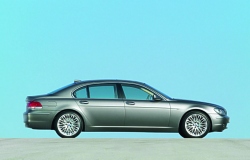 Click image for larger view

Click image for larger view

Click image for larger view
Reaching the middle of its model cycle, BMW's most successful luxury saloon so far has been enhanced for an even higher standard of driving dynamics and sporting performance, combined with a further improvement of product substance and presence.
The eight-cylinder petrol engines in the 750i/Li (270 kW/367 hp, 490 Nm/361 lb-ft) and in the 740i/Li (225 kW/306 hp, 390 Nm/287 lb-ft) have both been increased in size by 400 cc. The V8 diesel with its aluminium crankcase, in turn, displaces almost 500 cc more than its predecessor: Developing supreme torque of 700 Nm or 516 lb-ft, the 220 kW/300 hp 745d accelerates from 0–100 km/h in a mere 6.8 seconds. The straight-six diesel made of aluminium (170 kW/231 hp, 520 Nm/ 383 lb-ft) gives the BMW 730d a top speed of 238 km/h while consuming just 8.2 litres/100 km in the EU composite cycle, equal to 34.4 mpg Imp. Despite an increase in engine power by 20 kW or 27 hp, the straight-six petrol engine in the 730i/Li (190 kW/258 hp, 300 Nm/221 lb-ft) consumes 4.7 per cent less fuel than its predecessor.
With rear wheel track 14 mm or 0.55´´ wider than before, the enhanced aluminium chassis combines agility and sporting performance with truly outstanding motoring comfort. Apart from the series suspension, BMW also offers a special sports suspension featuring BMW Dynamic Drive anti-sway control and the top-of-the-range Adaptive Drive suspension comprising both Dynamic Drive and EDC-C Electronic Damper Control. Refinement to the last detail. Apart from the engine compartment lid, the kidney grille, the headlights and the front air dam have all been discreetly revised and updated.
Inside the car, the feeling of space and value is further enhanced by the careful choice of materials and colours as well as three new upholstery colour options. The iDrive control concept, in turn, has been further refined for an even higher standard of user-friendliness based on optimised menu guidance and presentation.