Click image for larger view

Click image for larger view

Click image for larger view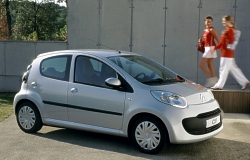 Click image for larger view

Click image for larger view

Click image for larger view

Click image for larger view

Click image for larger view
CitroŽn C1: engaging looks for a car equipped with the essential
The CitroŽn C1 is a compact model with attractive styling and a roomy interior. Based on a platform of modern design, this city car has all the features expected of cars in this segment, along with economical engines and the latest safety technology.
Attractive styling
Available in 3-door and 5-door versions, the C1 is particularly easy on the eye, with its bright and attractive styling. The short overhangs, generous bumpers and curved lines express a friendly charm while also conveying a sense of robust strength and safety. The C1 boasts a number of original design features, such as the transparent tailgate and rear lights, and the 5-door modelís innovative rear doors, extending back to the lights.
Compact outside, spacious inside Compact and nimble for city use, the C1 is 3.4 m long, 1.6 m wide and 1.5 m high. It features a turning circle of 9.5 m and gearbox ratios designed to ensure the fast responses necessary for enjoyable city driving. The C1 is a roomy car with four real seats. The interior space is truly exceptional, in view of its exterior dimensions. At the front, appreciable elbow room and head room contribute to the comfort of the occupants. Passengers in the rear enjoy the available leg room and head room.
Low price, low running costs
The C1 is sold at a moderate price, and it is also economical to run owing to its limited repair costs and low-consumption engines. The highly economical petrol engine (68 bhp 1.0i) and diesel engine (54 bhp HDi) are ideal for urban use and sufficiently powerful to allow the C1 to drive safely on major roads.
Uncompromising on safety
The C1ís pleasant road manners are suited to both the city and the open road. Its running gear ensures strong roadholding, while also effectively contributing to active safety. The C1 is also equipped with other top-level safety features: ventilated discs at the front, ABS, CSC (Cornering Stability Control) to keep the car stable when it rounds a corner with the brakes on, and driver / passenger airbags as standard.
A range designed to meet key customer requirements
The C1 is a complete range based on two body styles: 3-door and 5-door; two engines: one petrol (68 bhp 1.0i) and one diesel (54 bhp HDi); two gearboxes: one manual and one automated (SensoDrive); and two levels of trim.
CitroŽn superminis reveal their character through their exterior and interior styling. The C1 radiates good cheer, the C2 expresses a dynamic stance, the C3 an emphasis on well-being and the C3 Pluriel a focus on leisure. The C1 reflects CitroŽnís strategy of developing a range of compact vehicles of different styling and concepts in order to meet a full range of customer requirements.
The C1 is available in two versions:
- a brightly styled 3-door model for people who mainly use the front seats,
- a stylish 5-door model for increased convenience and accessibility, designed to carry four people, and whose design breaks with the established cues of high-volume 5-door models in this segment.