Click image for larger view

Click image for larger view

Click image for larger view

Click image for larger view

Click image for larger view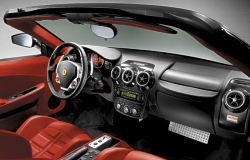 Click image for larger view

Click image for larger view
The F430 Spider joins the F430 as the latest addition to the new generation of Ferrari V8-engined sports cars. The Spider boasts all of the F430ís stunning technology, itself the product of a close working relationship with Ferrariís Gestione Sportiva F1 racing division. The F430 Spiderís all-aluminium bodywork has also been carefully strengthened as has its chassis to guarantee both occupant safety and the structural rigidity demanded by a car as high performance as this. Two very robust steel roll-bars are integrated into the windshield structure to guarantee maximum occupant protection. The electric hood is fully automatic and folds away completely into a very compact space indeed, so that the engine can be been in all its glory at all times, despite the Spiderís uncompromising central-rear engine layout.
The F430 Spider is powered by the new 90į V8 featuring Ferrariís traditionally uncompromising design approach with a flat-plane crank (180į between throws). The improvement in terms of performance, weight and reduction of overall dimensions is yet another result of Ferrari applying its wealth of F1 experience to its road cars: + 25% (465 Nm at 5,250 rpm, 80% of which is already available at 3,500 rpm) and power by 23% (490 hp at 8,500 rpm).
Just like in Formula 1, the F430 Spider driver can change various areas of the set-up of his car using a single selector set on the steering wheel. The manettino, as it is called by Scuderia Ferrari drivers, is a commutator switch that has been adopted directly from racing, where total commitment to driving requires maximum efficiency and speed in controlling the carís various functions. The settings available to the driver have been concentrated in five different strategies.
ICE: performance is significantly restricted for maximum stability - indispensable for driving in very slippery conditions. LOW GRIP: this position ensures stability both on dry and wet surfaces. It is therefore recommended for surfaces with poor grip (rain), gritty roads or particularly broken or undulating blacktop.
SPORT: this is the standard setting that strikes the best balance between stability and performance. This position is ideal for the open road.
RACE: this setting must be used only on the race track. Gear changing is even faster to minimise gear shifting times.
CST: activates or deactivates the stability and traction control. With the manettino set to off, the driver has full control over the carís reactions.
As the Coupť, also the F430 Spider features a new cast aluminium transmission casing that houses the gearbox in unit with the electronic differential and bevel type final drive, aswell as the engine oil tank. The 6-speed gearbox incorporates multicone synchronizers. The F430 Spider is available with either the classic Ferrari open-gate manual gearbox or with the F1 paddle shift that Ferrari has continuously developed and refined over recent years for its road-going berlinettas.