Click image for larger view

Click image for larger view

Click image for larger view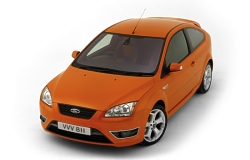 Click image for larger view

Click image for larger view

Click image for larger view
Powered by a turbocharged Duratec ST 2.5-litre, 5-cylinder engine and equipped with a six-speed manual gearbox, the Focus ST promises, in its specification and its distinctive design features, to raise the new Focus's reputation as a driver's car to new heights.
Focus ST's stance – low-profile 225/40 performance tyres on sculpted 18x8-inch five-spoke cast aluminium wheels – speaks driving confidence and grip. Inside and out, Focus ST's design makes its performance attributes clear, but in a manner that also supports refinement, craftsmanship and practicality. Focus ST remains a comfortable car for everyday family driving.
Designers evolved certain design cues established on the Fiesta ST to communicate Ford's competition heritage. They re-emphasised the visual weight of the front bumper to give Focus ST a low centre of gravity and incorporated an aggressive inverted-trapezoid lower grille. The upper grille of Focus ST is taller and narrower than that of core Focus models. Both upper and lower grilles feature a graphite mesh with signature triangular pattern hinting at mechanical power.
Specially shaped sill mouldings – aligned with the chin of the front bumper – further communicate the low centre of gravity and agility of the Focus ST. Attention to detail – the special ST badge on the front wings – and performance – the highly sculpted, five-spoke, 18-inch wheels – communicate dynamism.
Details like the spoiler, plus door handles, mirrors and body side mouldings, are all finished in the insistent, spirited bright orange that is destined to become a signature colour for the first new Focus performance derivative.
The interior design of the new Focus ST also plays a role in communicating its sporting credentials. Even from the outside, Focus ST's unique additional instrument pod, incorporated atop the upper instrument panel, creates an immediate visual difference.
The additional instrument pod is one of several special design features inside Focus ST. Under its half-dome 'eyebrow' shape, a trio of instruments – turbocharger boost pressure, oil temperature and oil pressure – are grouped. These new gauges, as well as the 160-mph speedometer, rev counter, temperature and fuel gauges in the primary instrument cluster, are given a new graphic design deeply ringed in aluminium opal colour to match other brushed aluminium interior accents.