Click image for larger view

Click image for larger view

Click image for larger view

Click image for larger view

Click image for larger view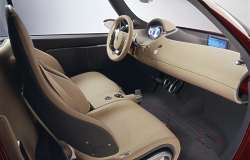 Click image for larger view

Click image for larger view
Renault has given Zoé its own vision of a small, dynamic, upper-range city car. A modern-day expression of luxury in a compact format, Zoé "appeals through its mature, sensuous curves, its characterful frontal styling and hypnotic demeanour. Zoé is charm personified," says Renault's Patrick le Quément, Senior Vice President, Corporate Design.
The hatch is raised by a twin opening system, with the rear window and tailgate sliding into each other to keep overall height to a minimum when open while at the same time providing easy access. A further practical feature concerns the rear left quarterlight which can be lowered so small items can be placed on the rear parcel shelf or in the boot.
The motorized passenger door features a two-hinge, three-axis opening system that offers extremely easy access. The travel of the door itself can be selected according to whether access to both the front and rear seats, or just the front seat is required. In this way, the space taken up by the door when open is kept to a strict minimum. Meanwhile, the glazed lateral part of the roof lifts up the instant one of the doors is opened.
A mere 3.45m in length, Zoé is both practical and functional with innovative opening panels thought through for urban use, including kinematics engineered to facilitate access and loading, especially in situations where space is at a premium.
"Zoé is a vehicle designed for city life. It has been shown that cars carry only 1.4 people on average, but two seat interiors are perceived as a constraint. Zoé is therefore a genuine three-seater complete with a boot located behind the driver's seat, all built into a compact architecture." Patrick le Quément
Developed in association with Valeo, the headlamps feature high performance light emitting diodes (LED) which produce an unprecedented sparkle effect. The frosted glass rear lights ensure a particularly soft tone, while the clear glass indicator housings reveal a deeply hued flash. The rear light clusters themselves take the form of crystal spheres complete with transparent, LED-lit rings that contribute to the overall futuristic feel.
Zoé's short but distinctively penned bonnet conceals a small Renault petrol engine, a new 1.2-litre turbocharged unit that delivers 73kW and maximum torque of 145Nm. Its first-class efficiency enables it to combine attitude with respect for the environment, while its low fuel consumption ensures remarkably low CO2 emission figures (under 140g/km).