.
BMW M5

Click image for larger view

Click image for larger view

Click image for larger view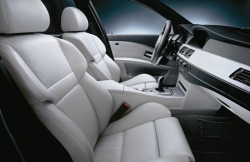 Click image for larger view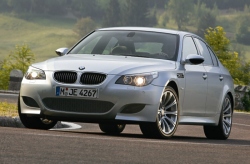 Click image for larger view

Click image for larger view
.
The ultimate in sports saloon motoring has got a name: M5. This finest 5 Series vehicle is the most powerful of all time: five litres of cubic capacity, ten cylinders, a maximum output of 507 bhp (373 kW), a peak torque of 520 Newton metres and engine speeds redlining at 8,000 rpm, these are figures that speak for themselves.
In an unprecedented way, these figures blur the lines between a car for everyday use and a vehicle for ambitious motor sport racing.
With its performance figures, the fourth-generation M5 once again sets the benchmark in the segment of powerful sports saloons, a niche which the first M5 carved for itself back in 1984. During the last 20 years, this first M5 and all its successors have made their mark, always setting the standard as a perfect symbiosis of a comfortable, elegant saloon for everyday use, abundant output delivered by a powerful engine and ultimate sportiness.
With sales figures exceeding 20,000, the M5 has proved to be an economically successful concept which combines prodigious performance with understatement, a basic feature of all M automobiles.
This principle reaches its culmination in the new M5: this "extreme athlete" with its subtle appearance and the seemingly endless power of its ten-cylinder high-revving engine, which interacts perfectly with the seven-speed SMG gearbox, introduces the driver to completely new dimensions of effortlessness.
The V10 is the only high-revving power unit to be featured in a series-production car. Featured in the most powerful production car within the BMW model family, this new engine once again sets the benchmark in its class.
The exhaust system is made of seamless stainless steel and has a dual-flow design all the way to the silencers. The exhaust gases finally leave the system through four tailpipes which are what make the rear end of the M vehicles so unmistakable.
The MS S65 engine management system is the central factor behind the V10's outstanding performance and emission data. Its processors are the most powerful ones which are currently approved for use in automobiles, as high engine speeds and comprehensive management and control tasks demand the utmost from this system.
The seven-speed SMG gearbox is precisely the right transmission to ideally convey the V10 engine's power via the drive train to the wheels. BMW M is the first manufacturer worldwide to offer a seven-speed sequential gearbox with drivelogic function. The purpose of the additional seventh gear is to reduce engine speed and torque gaps.