.
Porsche Boxster

Click image for larger view

Click image for larger view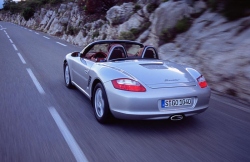 Click image for larger view
.
Porsche AG, Stuttgart, will launch the new Boxster on 27 November 2004. The 2.7 litre six-cylinder engine will then have 176 kW (240 HP), 8 kW (12 HP) more than previously.
The performance of the Boxster S, which will be launched simultaneously, has also been increased from 191 kW (260 HP) to 206 kW (280 HP), while cubic capacity has remained unchanged at 3.2 litres. The Boxster needs only 6.2 seconds to spurt from 0 km/h to 100 km/h, while the Boxster S manages this in 5.5 seconds. The basic model clocks up 256 km/h and consumes 9.6 litres Super Plus, in line with the EU standard. The maximum speed of the S variant is 268 km/h, while average consumption is 10.4 litres (EU standard).
The Boxster intends to extend its leading position in the roadster segment, by offering even greater driving pleasure while providing more active and passive safety. Larger wheels and a wider wheel alignment clearly emphasis the further development of the body form. At the same time they symbolise the increase in performance of the two models. The new front clearly shows the relationship with the 911 series but still features the typical Boxster face. The new lighting concept with the separation of main headlamps and front lamps with integrated fog lamps is characteristic of this.
In the new Boxster power is transmitted by a revised five-speed manual transmission and by a new transmission box with six gears in the S model. The gearshift had been revised for both transmission variants so that shift travel is now considerably shorter. Both vehicles can optionally be equipped with a five-speed Tiptronic S transmission. Boxster is the first roadster in the world to secure passengers against lateral impact using head airbags. In combination with a thorax airbag, which is concealed on the outer side of the backrest, the airbag shoots out from the side window rail of the door and provides a very high level of protection for the head.