.
Peugeot 907 Concept

Click image for larger view

Click image for larger view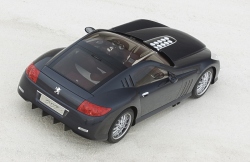 Click image for larger view
.
The Peugeot 907 is a GT coupé, created with reference to the past, the present and the future.
This is the archetypal touring car, discreet, but processing a sculpted and elegant shape, luxurious on account of the choice of materials it incorporates, and also extremely sporty as a result of its styling and its unrivalled engineering credentials. The 907 is a two-seater coupé, modern but also classic. As in the time of the great coachbuilders, this coupé embodies one of the finest engineering dreams of combining a large capacity engine within a classical shape, achieving a genuine synergy of advanced technology and motoring tradition.
The 6.0 litre V12 engine (368 kW or 500 bhp) is positioned longitudinally behind the front axle; connected by a small propshaft, it transmits its power to a six-speed gearbox placed longitudinally in front of the rear axle.
The wheelbase of this GT coupé is 2.50 m, its length 4.37 m, its width 1.88 m, while its height culminates at 1.21 m and its passenger compartment, designed to accommodate two people comfortably, is situated just ahead of the rear axle to allow for a long bonnet. The kerb weight is around 1 400 kg.
The structure consists principally of a carbon fibre shell, to which the mechanical components, for example, the four double wishbone suspension units, are attached. Set into the bonnet, a glazed panel reveals twelve intake trumpets reminiscent of a fairground organ.
Brown leather and light grey alcantara trim is used to cover both the interior and the seats. The steering wheel rim and the gear lever knob have authentic wood inlays.