FF 91 introduces the "third internet living space," the conduit between one's home and destination
Faraday Future (FF), a California-based global shared intelligent mobility ecosystem company, today revealed additional details on its FF 91 ultra-luxury vehicle, including the concept of third internet living space that integrated many of AI, internet, luxury and comfort functions as well as the new features of its high-tech interior, as a part of Automobility LA at the Los Angeles Auto Show. Built upon the company's Variable Platform Architecture (VPA), FF 91 represents a bold new species of electric mobility that combines supercar performance, precise handling, the comfort of an ultra-luxury passenger vehicle, and a unique collection of intelligent internet features.
Riding in FF 91, users will feel more rested and energized, even after being stuck in traffic for hours. The rear seats deliver industry-leading 60-degree rear-seat reclining angles, putting passengers in the biomechanically and ergonomically optimal position for comfort. This first-class rear seating experience provides lower leg, lumbar, and upper back adjustments and support. The seats also offer massage, heating, and ventilation for cooling.
The Smart phone was introduced first back in 2007 and changed everyone's digital life on the go. The Smart TV was introduced first in 2013 and changed the way we access digital contents at home. Faraday Future's mission is to change the concept of digital life when we are in our vehicles.
Like a private jet on 22-inch wheels, FF 91 is designed to ensconce its passengers in a relaxing, lounge-like experience, from departure to destination. Every element of the interior contributes its small part to creating an experience rather than simply another ultra-luxury means of transporting passengers down the road.
Zero-Gravity Seats
In the back of FF 91 are two Zero-Gravity Seats, taking principles learned from NASA's space experiments and co-opting to create Neutral Body Posture, optimally distributing the user's body weight to provide a more relaxing, rejuvenating experience. The rear chairs are each 14-way adjustable in addition to having 4-way adjustable lumbar support.
Further, they can recline up to 60◦, the greatest recline of any production vehicle, with full lower leg, back and lumbar adjustment.
FF's proprietary VPA is a flexible powertrain system featuring a monocoque vehicle structure in which the chassis and body are a single form – providing measurable improvements in overall vehicle rigidity, safety and handling. An available all-wheel drive system offers greater traction, control and precise power distribution.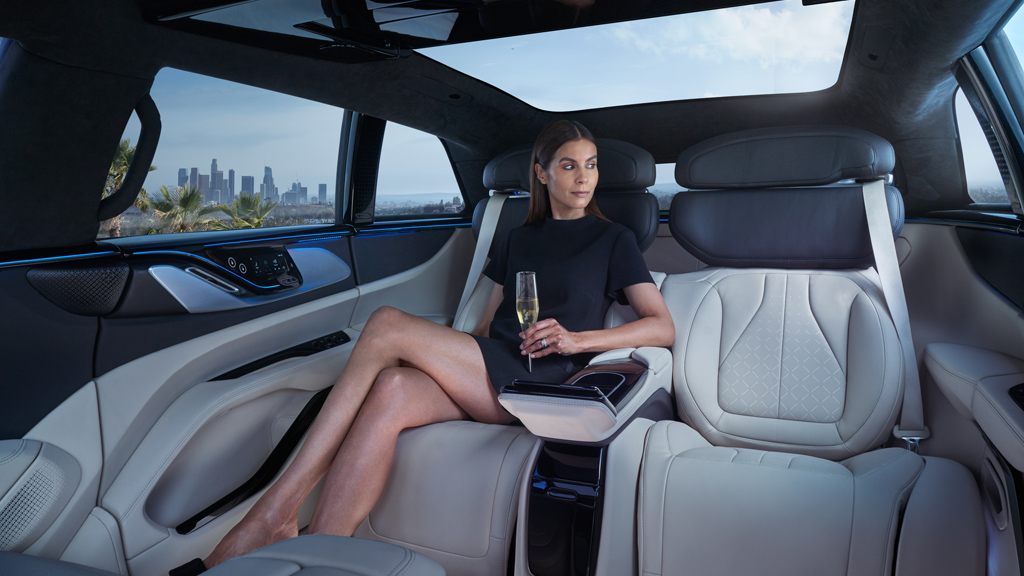 The VPA also houses class-leading battery technology, multiple motor and battery configurations, as well as the company's first of many patents: the FF Echelon Inverter.
FF 91's powertrain features a multi-motor setup, enabling real-time torque vectoring to the rear wheels. This technology delivers superior acceleration and safety while leveraging rear-wheel steering for agile cornering, allowing drivers to confidently execute maneuvers like merging onto freeways or accelerating out of dangerous scenarios. Peak motor power is 783 kW, equating up to 1050 HP, delivering a record-breaking 0-60 mph time in less than 3 seconds.
FF 91's battery technology doesn't sacrifice range for performance. Outfitted with a 130 kWh battery, FF 91 achieves a range of 378 miles (EPA est.) and over 700 km (NEDC est.) from the world's highest energy density battery. Similarly, the system's compact design enables more cabin space for greater comfort and safety.
FF 91 also has the fastest charge speed currently available, with the ability to charge at more than 500 miles per hour. The home charger, included with the vehicle, achieves a 50 percent to full charge in under 4.5 hours at 240V.