.
.
.
..
.
.
.
Related Topics:
© 1998 - 2004 Copyright &
Disclaimer
Automotive Intelligence,
www.autointell.com
All Rights Reserved .
For questions please contact
editor@autointell.com
---
Volkswagen : Bugatti
The Chateau St. Jean, Ettore Bugatti's home in Molsheim, France
The following picture series was taken during a visit of Ettore Bugatti's home in Molsheim, France.
| | |
| --- | --- |
| Currently the Chateau is beeing renovated, or more accurate, completely refurbished. The main building is completely built up with all the elements of the original Chateau. The architect is the same one as of the Autostadt or the new assembly building of Skoda in Mlada Boleslaw. | |
The Chateau was ready in autumn 2000. It will serve as a representative reception for Bugatti customers. The side buildings were are knocked down and completely destroyed.

Unfortunately, especially the buildings surrounding the Chateau, provided their own charm.
We learned, that in the left side building, the horses were guarded and in the right side building some other animals lived.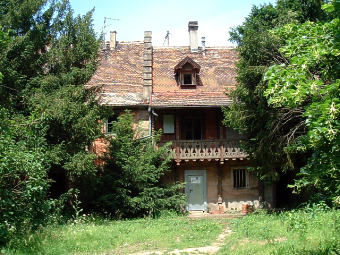 Photo: Automotive Intelligence
---
---