.
.
.
..
.
.
.

Vila Vita Parc, Algarve, Portugal

St. Regis Mardavall, Mallorca, Spain

Castillo Hotel Son Vida,
Majorca, Spain

Palazzo Arzaga Golf & SPA, Italy

Le Méridien Chia Laguna, Sardinia

Sofitel Thalossa Timi Ama, Sardinia

Mas de Pierre, St. Paul de Vence, France

Penha Longa Atlantic Course,
Sintra, Portugal

AS Golf Hotel Son Vida,
Mallorca, Spain

Penha Longa Resort
Sintra, Portugal

St. Regis Monarch Beach,
California, USA

Palace, Sun City,
South Africa

Hotel Villa Cipriani,
Asolo, Italy

Humewood Golf Course,
Port Elizabeth, South Africa

Presidio, San Francisco,
CA, USA

Fancourt Golf & Country Club,
George, SA
---
© 1999-2012 Copyright
Automotive Intelligence,
www.autointell.com
All Rights Reserved .
For questions please contact
editor@autointell.net
.
Travel & Golf Recommendations
Sintra, Portugal: Penha Longa Golf & Spa Resort
People travelling to Portugal's famous Estoril coastal region are captivated by the impressing landscape, the picturesque and unique locations, the sweeping Atlantic beaches, and the moderate climate which create ideal conditions for all kind of outdoor activities.

Penha Longa Hotel & Golf Resort & Spa Resort - Click image for larger view
Penha Longa Hotel & Golf Resort & Spa Resort is located just 16 kilometres away from Lisbon, the capital of Portugal, and seven miles from the famous Estoril coast, a splendid 545 acre estate and a five-star destination with 27 hole championship golf course plus a Six Senses Spa.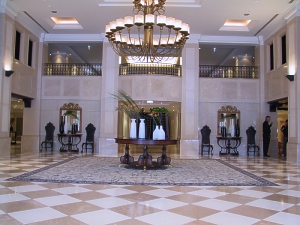 Hotel Entrance Hall - Click image for larger view
Taken over by Deutsche Bank Group recently and now under the management of The Ritz Carlton Hotel Company, more than 25 Billion US Dollars were invested in a major renovation programme which brought a new feel and modern look to Penha Longa Hotel & Golf Resort. The existing facilities and golf courses has been updated and the first Six Senses Spa in Europe was introduced.
Penha Longa, meaning Long Rock, was once a royal retreat, nestled into a landscape of special historic significance and is now part of Portugal's national heritage.


Click image for larger view
The 14th Century Monastery

Today, the Penha Longa Golf & Spa Resort cultivates the historic buildings as the ancient monastery built in 1355 and the old Roman aqueduct which stands majestically by the watery 6th and 7th holes. All is watched over by the estate's towering signature outcrop of rock adorned by a cross. The parallel perception of old and new, of tradition and state-of-the-art is something characteristic, what makes Penha Longa so unique.

.

All 194 guest rooms and suites, elegantly decorated with warm earthy tones and natural woods, feature spacious terraces and picture windows for breathtaking views of the countryside.
The resort's main restaurant has been re-decorated and renamed assMassa, which comes from the old Portuguese word where you come to bake. The new RC Bar and the new tea lounge called Tcha, both adjacent to the main lobby create a great atmosphere to enjoy and relax.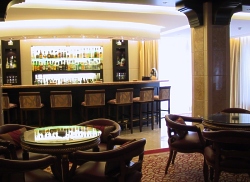 RC Bar - Click image for larger view

Lobby - Click image for larger view
The conference facilities for business events and the new ballroom of 700 sqm meet even the sophisticated demand.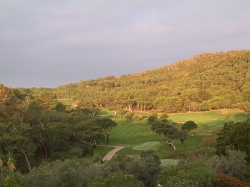 View from the hotel room - Click image for larger view
The Atlantic Course (see article), a world class 18-hole, par 72, championship course, designed by the famous golf architect Robert Trent Jones Jr., has been host of numerous golf events, such as the Portuguese Open. Playing golf on this challenging course is a great experience for all levels of golfers. The nearby driving range offers everything to improve the game.

Hotel Pool - Click image for larger view
The Six Senses Spa is located within Penha Longa's historic palace complex offering a haven of tranquility and inner peace. With Six Senses offering a holistic product that is designed to rejuvenate and energise, Penha Longa has become another attraction. Within a short walk from the main hotel building, the 1,500 sqm Spa presents a wide range of sophisticated therapies and treatments with an holistic approach for wellbeing.
Designed to lend a meditative and contemplative ambience, the Six Senses Spa incorporates a number of water features, such as:

jacuzzi

plunge pool

wading pool

three mater waterfall

platform over the pool for T'ai Chi or Yoga

water cascade feature

two gazebos for meditation or treatments.
For those who love fast cars and motocycles, a visit to the close by race track of Estoril guarantees excitement for young and old. And the city of Estoril with its famous Casino and its elegant restaurants is a great place to spend the evening. A cultural trip to Sintra - famous for its sumptuous royal palaces and beautiful landscapes which has been named a Unesco World Heritage - is almost a must for every visitor to the area.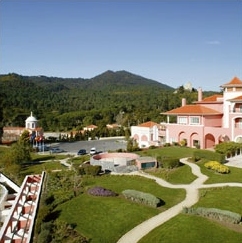 The Penha Longa Hotel & Golf Resort is the perfect base to start with all kind of activities the area offers and it is ideal to combine business and leisure. Breathtaking in beauty, nestled in a lush and varied landscape, Penha Longa offers the complete resort experience, allowing you to be as active or relaxed as you wish.
For more information or reservations please contact:
http://www.penhalonga.com or http://www.ritzcarlton.com
or:
Penha Longa Hotel and Golf Resort
Estrada da Lagoa Azul
Linhó
2714 - 511 Sintra, Portugal
Telephone: (351) 21 924 9011
Facsimile: (351) 21 924 9007
Photos: Penha Longa/Automotive Intelligence
(November 14, 2005)
---
---