.
.
.
..
.
.
.
Historical Figures:
© 1998 - 2005 Copyright &
Disclaimer
Automotive Intelligence,
www.autointell.com
All Rights Reserved .
For questions please contact
editor@autointell.com
---
Volkswagen Group Statistics: Overview
2004 Deliveries
.
Volkswagen Deliveries 2004
.

Division

2004
2003
Volkswagen Group
5.079.000
5.015.936
Volkswagen Passenger Cars
3.064.000
3.075.000
Skoda
452.000
449.758
Bentley
6.000
995
Audi
779.000
769.900
Seat
442.000
460.151
Lamborghini
1.600
1.310
Volkswagen Commercial Vehicles
333.000
258.822
South & Central America
533.000
25,20%
Europe
3.085.000
0,80%
Germany
954.000
1,20%
North America
572.000
-9,30%
Asia Pacific
757.000
-6,30%
Detroit/Wolfsburg, 10. January 2005 - In 2004, the Volkswagen Group delivered 5.079 million vehicles to customers worldwide. "This is a good sales result given the weak situation on the world's key automotive markets," said Dr. Bernd Pischetsrieder, Chairman of the Volkswagen Group Board of Management, on Sunday in Detroit/USA.
Pischetsrieder commented that the Group had felt the effects of the headwind on markets in Germany, China and the USA in particular. He did not expect any substantial impulses or dynamic growth from the markets during the current year. Due to high oil prices and continuing aggressive price battles, the situation on the world's key markets would remain difficult.
He reported that the Group would be launching 20 new models in 2005. The Jetta had just debuted in the USA. The new Passat would have its première in Germany in February. The Fox compact car would also be introduced in Europe. With these new models, the Group would maintain its position on world markets in 2005.
The increase to 5.079 million vehicles (2003: 5.015 million) represents a rise of 1.3 % compared with the previous year. According to Pischetsrieder, growth was especially noticeable in markets where new models had been launched.
The increase in Group sales was particularly strong in the South America/South Africa region, where deliveries to customers rose 25.2% percent to 533,000 units. Developments in Brazil were especially pleasing, with deliveries increasing 14.9 % to 362,000 vehicles. In Europe, deliveries to customers rose 0.8 % to 3.085 million vehicles. In Germany, Group sales rose by 1.2 % to 954,000 units. However, sales declined in North America (572,000; - 9.3 %) and Asia – Pacific (757,000; - 6.3 %).
At 3.064 million (2003: 3.075 million), sales by the Volkswagen Passenger Cars brand remained on a par with the previous year. Skoda deliveries to customers increased by 0.4 % to 452,000 vehicles (2003: 449,758). For the first time, Bentley sold substantially more than 6,000 vehicles (2003: 995).
Audi again posted record sales, with deliveries totalling 779,000 vehicles (+1,2 %, 2003: 769,900). Deliveries to customers at SEAT declined 3.9 % to 442,000 vehicles (2003: 460,151). Lamborghini increased its sales by 22 % to 1,600 sports cars. Sales by the Volkswagen Commercial Vehicles brand rose by 28.8 % to 333,000 (2003: 258,822).
---
2003 Deliveries
In the financial year 2003 the Volkswagen Group delivered 5,014,911 vehicles worldwide, 0.6% up on the previous year. The fourth quarter saw signs of an increase in sales. In the past year the Volkswagen Group again pursued its strategy of maintaining the value of its products, and consequently was restrained in its use of the sales incentives commonly employed in the industry. The Group's world market share of new passenger car registrations was 12.1 (12.0)%.
2003 Unit Sales
In the year 2003 the worldwide sales of the Volkswagen Group to its dealer organization totalled 5,015,911 units, slightly above the level of the previous year (+ 0.4%). In Germany demand rose slightly towards the end of the year under review, as a result, the previous year's Group figure was surpassed by 0.8%. Outside Germany, too, Group sales of 4,100,326 units were 0.3% up on the previous year. The proportion of vehicles sold outside Germany remained virtually constant at 81.7 (81.8)%. Increases were achieved in particular by the Chinese joint ventures Shanghai-Volkswagen Automotive Company Ltd. and FAW-Volkswagen Automotive Company Ltd., whose sales rose against the previous year by a substantial 50.4% to 707,307 units.
The main driver of unit sales worldwide for the Volkswagen Group was the Passat/Santana, with a 14.4 (14.1)% share of the total. The Golf, despite the model change-over, achieved a 13.3 (16.1)% share, still ahead of the Polo, which represented 9.0 (10.0) % of total unit sales. The unit sales of Volkswagen AG to the dealer organization totalled 1,941,311 vehicles, 5.9% down against the previous year. Of that total, 67.2 (68.9)% were exported from Germany.
2003 Production
In the financial year 2003 the Volkswagen Group deployed its flexible production control strategy to adjust its volumes to market conditions. Production totalled 5,020,733 units, 0.1% fewer than in 2002. The new Touran, Touareg and Audi A3 models were well received by the market, resulting in a steady increase in production of them. The production of the joint ventures in China, the market with the fastest sustained growth of all, was increased substantially to 707,619 (470,635) units. 34.7 (35.5) % of total production was made in Germany. An average of 22,043 units (+ 2.6%) per working day were produced Group-wide.
The production figure also includes 39,903 Ford Galaxy units, which are also included in unit sales but not in deliveries to customers. Production at the vehicle-producing sites of Volkswagen AG (Emden, Hanover and Wolfsburg) increased by 3.9% to 993,716 units, primarily owing to the high volumes of Touran modules for Auto 5000 GmbH. The average daily production of Volkswagen AG was 4,255 units (– 3.1%).
Source: Annual Report 2003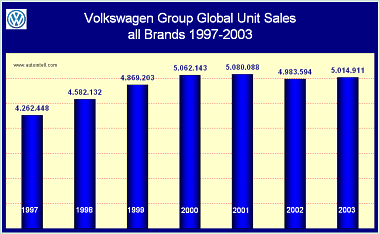 ---
---
.