.
.
.
..
.
.
.
.
.
Related Topics:
© 1998 - 2004 Copyright &
Disclaimer
Automotive Intelligence,
www.autointell.com
All Rights Reserved .
For questions please contact
editor@autointell.com
---
---
Honda at the NAIAS 2000, the FCX fuel cell concept vehicle

Detroit Auto Show Special
..
The FCX concept vehicle features Honda's innovative fuel cell unit powertrain. Honda has announced its intentions to put fuel cell powered vehicles on the road in 2003.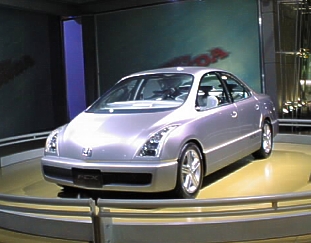 Photo: Automotive Intelligence
| | |
| --- | --- |
| Honda is researching both methanol and hydrogen fuel cell prototypes. In the FCX concept vehicle, the fuel cell unit, located below the floor of the passenger cabin, employs a methanol type fuel cell designed by Honda. Poer is achieved when a methanol and water mixture moves from a storage tank, located in the rear iof the unit, through a "fuel processor" where hydrogen is extracted. The hydrogen is then mixed with the oxygen within the cell stack to produce electricity. This in turn powers the electric motor. | |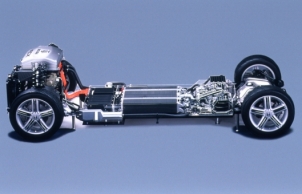 Photos: Honda
Honda recently joined the California Fuel Cell Partnership, and will be demonstrating hydrogen-fueled fuel cell vehicles in California in cooperation with other partnerships.
The FCX also is considered an example of what can be expected in sedans of the future. The compact size of the fuel cell drivetrain allows increased cabin space, while the short nose provides ease of handling.
Additional interior features include four large, comfortable seats, smart card ignition key and fingerprint ID system, large screen multi-information monitor on center console, rear seat passenger airbags, a state of the art audio system with CD changer and newly developed meters with illuminated digital display.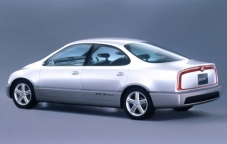 The exterior is a perfect balance of sharp, solid masculine angles with a gentle roundness that encircles the interior. This design gives the FCX an esthetic appeal as well as providing excellent aerodynamics. To help reduce drag, Honda designers eliminated exterior mirrors and replaced them with miniature video cameras and an interior video display.
(January 13 , 2000)
---
---
.