.
.
.
..
.
.
.
.
.
Related Topics:
© 1998 - 2004 Copyright &
Disclaimer
Automotive Intelligence,
www.autointell.com
All Rights Reserved .
For questions please contact
editor@autointell.com
---
---
Honda of America
American Honda Posts 10th Consecutive Year of Record Sales in 2005
Strong Civic and Ridgeline sales push Honda to its best sales year ever, Acura breaks 200,000 mark for the first time
American Honda Motor Co., Inc., announced record sales results for both its Honda and Acura Divisions, pushing American Honda to another all-time record year in 2005. With sales up 5.2 percent to 1,462,472 vehicles, the results mark the company's 12th consecutive year of sales increases. American Honda December sales totaled 132,800 vehicles and light-truck sales of 65,894 jumped 14.1 percent over last year to set a new record for the month.

Source of Figures: Honda of America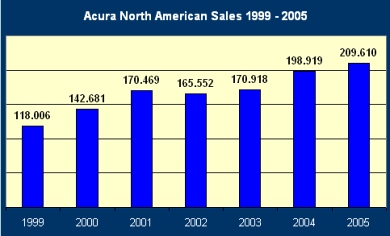 01/04/2006
---
---
.