---
---
Fiat : Lancia Dialogos concept
Lancia Dialogos, a concept for future driving
Photo : Automotive Intelligence
Choosing tradition as the starting point for the design of tomorrow's car may seem a contradiction in terms. Not for Lancia.
Because the future always benefits from a return to the past, when loving craftsmanship and technological innovation were two sides of the same coin.
To be unique, an object must convey much more than is immediately apparent.
The message is in the details, in the parts. But above all, it is in the animating spirit. Lancia cars have always lived by these principles. They imbue every model with a very special appeal: a desire to turn heads coupled with the satisfaction of discretion.
The basic guidelines may be the same, but the interpretation is quite different.
The design of the DiÓlogos contains a wealth of stylistic references to the most prestigious Lancia models. The car's impressive dimensions are lightened by uncluttered profiles and seductive curves. Unhindered by intrusive door handles or door mirrors, the gaze is free to wander beyond the normal boundaries, inside and outside the car. This good-looking blend is everything a Lancia of the future should be.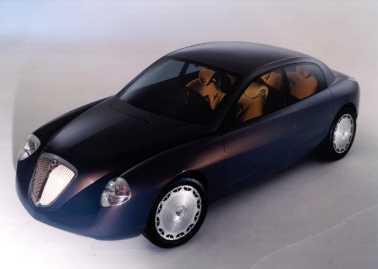 Well-proportioned shapes. Spare elegance. The materials are chosen to appeal to the eye and also to the senses.
Technology truly harnessed to man's needs. All these factors combine to create a new concept. A concept that sees the car as not just a vehicle to be driven but a space to be inhabited. Capable of arousing all our senses.
The center-opening doors mark a return to the past and are also a symbolic gesture.
Photo: Lancia
Without the center pillar, the act of getting into the car is like entering a comfortable lounge, where new sensations of ease, wellbeing, and harmony are ideally catered for. Luxury, not ostentation. Innovation, but without losing sight of timeless values. A flexible approach to different needs. Functionality, because we know how to make cars as rewarding an experience as possible.
Vincenzo Lancia's passion for essential but elegant details was born of a very clear vision.
The desire to transmit something else, something different from mere physical or visual contact, through meticulous craftsmanship. The emotional ability to make original ideas appealing. With care, technical ability and, above all, the desire to produce something living, exclusive and Úlite. This is why a Lancia is always unique.
DiÓlogos seeks to fulfil three fundamental aims:
Living Room, Ideal Microclimate, Stress-free driving.
Living room.
A combination of quality, breeding and emotion conveys the sensation of an environment that is elegant yet home-like. Your very own living room.

Controlled micro-climate.
The climate, sounds, sights and smells convey the idea of a protective, healthy, beneficial environment.

Stress-free driving.
Sophisticated technologies are cleverly used to stay one step ahead of motorists' demands and adapt to their habits, moods, and current mental and physical conditions.
---
---