---
---
Lancia: Lancia Thesis
THE LANCIA CHALLENGE: BACK TO THE FUTURE
Photos: Automotive Intelligence
The Thesis has the task of relaunching the brand in this prestigious sector, where Lancia can boast a heritage of creativity and manufacturing skill which helped create history-making cars. From the Lambda, the first car in the world with stress-bearing bodywork and independent front suspension, to the Aprilia, which in the early 1930s already boasted a Cd of 0.47 when the average value for vehicles at the time was 0.60. And the Aurelia, whose bonnet hid the first six cylinder V-shaped engine ever fitted on a production vehicle, or the Delta, whose technological superiority was confirmed by six consecutive World Rally Championship titles. Models capable of standing out by embracing the technological innovation of their times, combined with unmistakable class and an elite life style.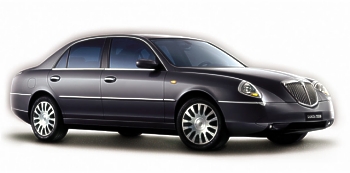 Click image for larger view
It is with the Thesis that Lancia reasserts this interpretative approach to prestige saloons in keeping with its DNA: typical Italian craftsmanship and the ability to give a new look even to the most advanced technology. For example, in the affluence ensured by luxurious materials used not only for aesthetic reasons but also for the sensorial reactions they arouse.
| | |
| --- | --- |
| Or the highly-evolved approach encompassing computing technology and telematics - which in the Lancia Thesis immediately satisfy passenger desires because - at last! - they are so 'easy': machine adapting to Man, not the other way round! | |
A CAR TO EXPRESS A LIFE-STYLE
The Lancia Thesis is targeted at the most demanding market segment - those clients who (even when not driving themselves) still insist on complete control of comfort and motoring: interior layout, climatisation, access - for work or pleasure - to communication systems with the outside world and the media.
Photo: Automotive Intelligence
The Thesis thus joins the market for large, luxury saloons. This segment in Europe brings together a select number of motor vehicles on which the most prestigious brands focus the best motor vehicle technology currently available. And that means: sophisticated engineering, innovative IT and navigation devices, choice materials and supreme dedication to finishing.
THE EXCITEMENT OF ITALIAN STYLE
Just under five metres long (4.91) and hallmarked - in terms of styling - by exciting elegance going far beyond rational utility to leave space for the imagination, the Lancia Thesis matches retro sensations - such as the high front, the long bonnet and the profile resembling an upside-down wedge - with an entirely new stylistic language. Hence the large, vertical grille and rhomboid headlamps built into sculpted, shapely mudguards. Altogether a new styling cue - distinctive to Lancia - giving rise to a front section without the customary protruding bumper and the consequent overhang from the body of the vehicle which divides the front itself into 'top' and 'bottom'.
Photos: Fiat
---
---