The Web for Automotive Professionals & Car Enthusiasts
---
MINI History
---
---
MINI Cars
---
---
MINI Concepts
---
---
Specials
---
MINI Plant in Oxford, UK
The new MINI is being manufactured on one of the world's most modern and advanced production systems at the BMW Group plant at Oxford - the result of a £230 million investment programme at the factory.
---
MINI Stars in "The Italian Job"
MINI, the 2003 North American Car of the Year, will join a stellar cast that includes Mark Wahlberg, Edward Norton, Charlize Theron, Jason Statham, Seth Green, Mos Def and Donald Sutherland, in Paramount Pictures' film, "The Italian Job," opening nationwide May 30th.
© 1998 - 2007 Copyright &
Disclaimer
Automotive Intelligence,
www.autointell.com
All Rights Reserved .
For questions please contact
editor@autointell.com
---
---
---
Plant Summary Facts Assembly Paint hop Body Shop Logistics
Quality & Engineering Center
---
BMW Oxford Plant : Logistics
LOGISTICS SUPPORT: The supply lines for the MINI are international; while 40 per cent of the added value of all parts is from 100 UK-based suppliers other components come from throughout Europe with the engines being supplied through a joint-venture programme in Brazil.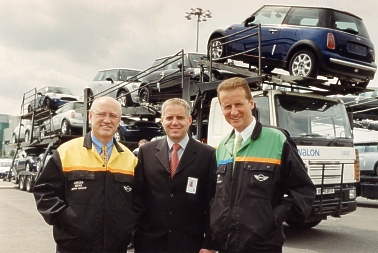 First MINIs delivered to Dealers (left: Juergen Meng, Logistics; middle: MINI dealer;
right: Dr. Herbert Diess, plant manager)
photo: BMW
The organisation of parts supply to support production at Oxford is vital for efficient and cost-effective manufacturing and, where possible, Just in Time supply strategies are implemented.
Body panels are delivered directly to the body in white facility, primarily from BMW Group's Swindon plant and from Solihull in the West Midlands.
Similarly engines are shipped directly to the assembly area in specially designed containers as is the cockpit (see details above). Some of the smallest and most diverse parts are the various fasteners, clips etc and the coordination and management of 62 suppliers is carried by one company, Infast, on behalf of BMW, thus freeing up in-house resources.

A key element in the smooth and efficient flow of production material, without creating costly buffer stocks, is the responsibility of the Integrated Logistics Centre (ILC). It is a 20,000 square metre warehouse, connected directly to the assembly area by two tunnels through which electric tow trains feed the production lines.
The ILC has two functions, to act as a receiving and sequencing facility and to provide space for Just in Time key suppliers to carry out late configuration work as close as possible to production.
As a warehouse, the building has been totally renewed internally with a new racking system, upgraded to cope with the high volumes of MINI production. There are 33 aisles, with five-storey storage, providing a total of 9,100 pallet locations. The aisles are serviced by very narrow aisle trucks which gather up components to form tow trains for transfer to the assembly areas.
The late-configeration areas are managed by the suppliers themselves and include Magna (bumpers); Draexlmaier (electrical harnesses); Antolin (headliners) and Delphi (struts and dampers). These components are configured in line with build requirements a few hours before they are required at trackside and delivered in sequence.
The significant increase from previous production levels at Oxford means that the volume of parts arriving at the plant will increase, as will the output of finished cars for sale around the world. To alleviate any congestion, a new and bigger lorry park has been built at the ILC.
(July 10, 2001)
photos: Automotive Intelligence