The Web for Automotive Professionals & Car Enthusiasts
---
BMW Concepts
---

BMW Z9


Z9 convertible

X Coupe Concept
---
BMW Cars
---

Testdrive BMW 6

BMW Z4

7 Series 2002

3 Compact

3-series

BMW M3

BMW 7 Series


BMW X5

BMW Z8
---
MINI
---
BMW MINI
© 1998 - 2007 Copyright &
Disclaimer
Automotive Intelligence,
www.autointell.com
All Rights Reserved .
For questions please contact
editor@autointell.com
---
---
---
BMW Cars
"Bayerische Motoren Werke" (Bavarian Engine factory) was launched in 1916 in Munich, Germany, as an aircraft engine factory.

1923 BMW diversified into the motorcycle business and the first bike was assembled.

The car business started with the Dixi in 1928, a small car, which was produced in Eisenach, Germany.

Internationalization started with the launch of the South African plant in 1972.

The BMW Isetta,
built 1955-1962
Nowadays, BMW is successfully manufacturing mid- and high end cars. BMW introduced the Z3 Roadster and has extended the program with the M-Coupé. The Z4 followed the Z3 and set another mark for sporty design.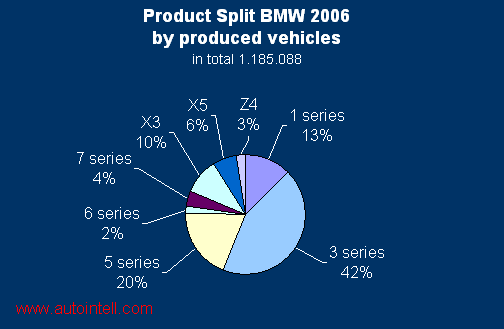 New models as the X5 and the Z8 broadened the product portfolio in 1999/2000. A small X5 called the X3, which is exclusively manufactured at Magna in Graz/Austria is introduced late 2003.
After selling Rover MINI brand remained within BMW, produced in the Oxford plant of former Rover and went successfully in the markets since mid of 2001.
BMW Group In America

BMW of North America has been present in the United States since 1975. Since then, the BMW Group in the United States has grown to include marketing, sales and financial service organizations for the BMW and MINI brands and Rolls-Royce Motor Cars; DesignworksUSA, an industrial design firm in California; a technology office in Silicon Valley and various other operations throughout the country.

BMW Manufacturing Corp. in South Carolina is part of BMW Group's global manufacturing network and is the exclusive manufacturing plant for all Z4 roadster and X5 Sports Activity Vehicles.
The BMW Group sales organization is represented in the U.S. through networks of 340 BMW car, 327 BMW Sports Activity Vehicle, 148 BMW Motorcycle retailers, and 70 MINI dealers. BMW (US) Holding Corp., the BMW Group's sales headquarters for North, Central and South America, is located in Woodcliff Lake, New Jersey.