The new Coupe body
Reporting the Coupe's debut at the Geneva Automobile Salon, Switzerland's authoritative Automobil Revue described the design in its February 1, '06 issue: "The Z Coupe embodies the new BMW design in its purest form. It is characterized by round, flowing lines. Curved, long hood, pronounced wheel arches and a "trough" down the roof's center are classic sports-car design cues, but here they're newly mixed in the BMW way.
Even stronger in its aesthetic impact is the fastback roofline.
For one thing, in cross-section its center depression or "trough" is reminiscent of certain GT coupes of the Italian coachbuilder Zagato in the Fifties and later. In profile view, it flows in a line parallel to the side windows' top edge, then continues on down to meet a crisp, stand-out cutoff point that forms a rear spoiler. Then it concludes at the bumper as the bottom edge of a rear hatch.
This hatch, including the entire roof from the rear window's top edge to the bumper, opens wide and high to provide excellent access to a relatively roomy cargo area that can accommodate two golf bags.
An intimate cabin for two
In its interior design, the Coupe adopts the primary design themes and materials of the Roadster 3.0si. BMW's "High Performance" leather upholstery is standard; the seats, upper door-panel inserts, console-side kneepads and center armpad are in this leather and it is available in three color schemes: Black, Dream Red/Black and Beige. Brushed-aluminum trim highlights the dash and console; Poplar Grain wood trim is available at no extra cost in Light or Dark tone.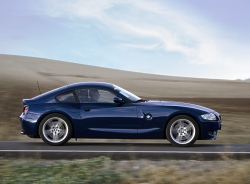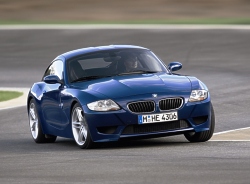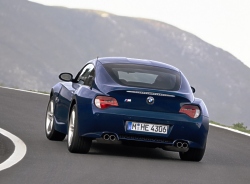 BMW Z4 M -- Click image for larger view
The Z4 Series just became the first European cars to win the coveted THX Certification for their premium audio system. THX Ltd. was established in 1983 by filmmaker George Lucas, and has taken its mix of technology and certification programs to emerging entertainment media, including home theater systems, DVDs, video games and high-performance automotive audio systems.
In the closed-body environment of the Coupe, this system promises even more enjoyable listening. It includes a reception-enhancing diversity antenna system, and an iPod adapter kit is available to broaden the range of audio inputs.

BMW Z4 M Interior (left) and regular (right) --Click image for larger view
All-new engine: BMW's advanced N52 6-cylinder concept
The Z4 Coupe comes with a new generation of 6-cylinder engines, called N52. Compared to its predecessor, the M54 engine family, the N52 achieves notable progress on all fronts (N52 3.0-liter of 3.0si models vs. previous M54 3.0-liter):
Greater power, 255 hp vs. 225 hp – a very impressive 85 hp/liter.

Greater torque, 220 lb-ft. vs. 214, and even stronger torque delivery across the broad range of engine speeds.

Higher revving ability. The new "redline" is 7000 rpm, vs. 6500 previously.

Superior fuel efficiency. Both 3.0si models (Roadster and Coupe) with automatic transmission are EPA-rated at 21 mpg city/29 mpg highway, up significantly from their 3.0i predecessor model's 19/27. With manual transmission, the 3.0si Roadster and Coupe essentially match their predecessor with 20/30 mpg vs. the previous 21/29.

Reduced weight – 22 lb. less. Had BMW engineers evolved the previous engine to meet their goals, it would have weighed 52 lb. more than the new engine does.

More compact – Because there is just one external drive belt, vs. the previous two, overall engine length is about an inch shorter.
Transmissions: all choices are 6-speeds
Now the Z4 joins other BMW Series in offering a 6-speed automatic; compared to the previous 5-speed it's fully 10% lighter, has a more efficient torque converter and new shift programming for improved responsiveness, actually operates with fewer internal clutches, and can reduce fuel consumption, particularly at cruising speeds when 6th gear is in frequent use.
As with other current BMW automatics, the STEPTRONIC feature offers drivers a choice of Normal, Sport and Manual modes. The Sport mode, in which shifts occur at higher engine speeds, is engaged by moving the lever leftward from Drive; the Manual mode is engaged when the driver manually chooses a gear by tipping the lever forward (for downshifts) or rearward (for upshifts).

Click image for larger view
(11. May 2006)
Photos: BMW AG
---
---