The Web for Automotive Professionals & Car Enthusiasts
---
BMW Concepts
---

BMW Z9


Z9 convertible

X Coupe Concept
---
BMW Cars
---

Testdrive BMW 6

BMW Z4

7 Series 2002

3 Compact

3-series

BMW M3

BMW 7 Series


BMW X5

BMW Z8
---
© 1998 - 2007 Copyright &
Disclaimer
Automotive Intelligence,
www.autointell.com
All Rights Reserved .
For questions please contact
editor@autointell.com
---
---
---
BMW: Z9 Concept
BMW Z9 Gran Tourismo Concept Car presented
Photo: BMW AG
At the last Frankfurt Motor show in September 1999, BMW introduced the Z9 gran turismo concept car. This dramatically styled sports coupé has been designed to showcase BMW's cutting edge technology and design, featuring gullwing doors, carbon fibre bodywork and the world's first V8 diesel engine.
BMW Z9, the concept study

The lines of the Z9's exterior design are clean, simple, yet dramatic, with a long, sleek bonnet and short, muscular tail. At the front is the unmistakable BMW kidney grille and from the side, the huge wheels - 20 inch at the front and 21 at the rear - and high waist give the car real presence.
An aluminium space frame gives the monocoque chassis excellent torsional rigidity and crash performance, while carbon fibre bodywork combines great strength and light weight. The Z9 is large car, five metres long and two metres wide with a 3.1 metre wheelbase.
Access to the interior is via two full-length gullwing doors, which open automatically at the press of a button.
| | |
| --- | --- |
| Cleverly, conventional doors are designed into each "wing" for use when space does not allow the gullwings to be used. | |
Once inside, the lines of the cabin are clean and simple and the ambience extremely light and airy. Most noticeable is the lack of switchgear. All the secondary controls are operated by a single rotary/push unit on the centre console and four buttons to select "audio", "communications", "comfort" and "drive".
BMW Z9: Interior View

A large screen in the centre of the dashboard displays all the information the driver requires in a simple graphic display, apart from the speedometer and rev counter which are conventional analogue instruments directly in front of the driver.

The only other driver controls in the cabin are a starter button on the dashboard, and gear selection and indicator stalks on the steering column.

Power comes from the world's first V8 turbo diesel, which featured for the first time in the 740d when it was launched earlier this year in Germany to wide critical acclaim. It is a common rail, direct injection unit which produces more torque than any engine in BMW's history.
Peak torque is a staggering 413 lb ft (560 Nm), which is maintained constantly between 1750 and 2500 rpm to give outstanding performance even at this low end of the rev range. Maximum power is an impressive 245 bhp. Choosing a diesel engine to power a large sports coupé is a reflection of BMW's confidence in the refinement and performance characteristics of this ground-breaking unit.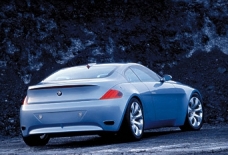 There are no plans yet for the Z9 gran turismo to enter production.
September 23, 1999