The Web for Automotive Professionals & Car Enthusiasts
---
Take a seat, fasten the seatbelt, start the engine and drive along on a small and curvy road in the mountains or at the sea - you'll understand immediately what "Freude am Fahren" or "Pleasure of Driving" really means.
---
BMW Concepts
---

BMW Z9


Z9 convertible

X Coupe Concept
---
BMW Cars
---

Testdrive BMW 6

BMW Z4

7 Series 2002

3 Compact

3-series

BMW M3

BMW 7 Series


BMW X5

BMW Z8
---
© 1998 - 2007 Copyright &
Disclaimer
Automotive Intelligence,
www.autointell.com
All Rights Reserved .
For questions please contact
editor@autointell.com
---
---
---
BMW: BMW Z4 2003
THE ALL-NEW 2003 BMW Z4 roadster
The all-new BMW Z4 roadster marks another highlight in BMW's new design strategy, and sets new standards for premium roadsters. When its predecessor, the BMW Z3 roadster, was introduced in 1995 (as a '96 model), it captured people's attention - in particular with its public debut as James Bond's new company car in Goldeneye and virtually created the premium roadster segment. Its replacement is so completely revised that it will carry a new designation - BMW Z4.

Click image for larger view
The new Z4 is a modern interpretation of all the classic roadster features - a long and sweeping hood, a long wheelbase, short overhangs and a low seating position in a cockpit that is set back.

The design of the car is all new and characterized by the intriguing interplay of convex and concave surfaces, hard edges and curves. This interplay of surfaces creates new transitions of light and shadow from every angle, giving the Z4 an eye-catching visual character.

Click image for larger view
The new body offers the roadster aficionado not only a spacious cockpit with a design that echoes the sophisticated nature of the exterior, it also boasts a large luggage compartment offering about nine cubic feet of space, which is large enough for two golf bags. The soft roof comes with a heated glass rear window and folds in a Z-shaped configuration. An integrated tonneau cover eliminates the need for an attachable boot. The available fully automatic top can be raised or lowered in about 10 seconds.

Click image for larger view
Available with a choice of two high-torque in-line sixes, the Z4 roadster 3.0i (225-horsepower) and the Z4 roadster 2.5i (184-horsepower) offer more than enough power to keep things interesting. The Z4 roadster 3.0i will be available with a choice of 6-speed manual or 5-speed STEPTRONIC automatic, while the Z4 roadster 2.5i offers a 5-speed manual or STEPTRONIC automatic. Next spring a Sequential Manual Gearbox (SMG) will be available in both models. The Z4's handling will establish new benchmarks. The suspension is a modified version of the highly acclaimed suspension from the 3 Series. Dynamic Drive Control (DDC), available as an option, features a "Sport" Button. It provides even more spontaneous acceleration and power at the touch of the gas pedal, quicker steering, as well as an even more aggressive shifting program for the five-speed automatic transmission.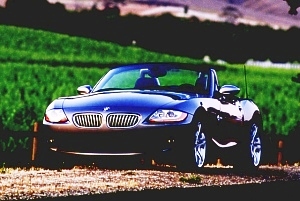 Click image for larger view
The Z4's wide track, extremely low center of gravity, optimum 50:50 weight distribution and very precise electric power steering help give the new Z4 its outstanding agility. Fade-free high-performance brakes, standard Run-Flat tires and Dynamic Stability Control (DSC) with an on-demand traction mode contribute to outstanding safety in all driving situations.
Standard features of the new Z4 include a leather sports steering wheel, sport seats, a rollover safety system, and remote entry system. Options available at extra cost include a DVD-based navigation system with 16:9 display which retracts into the instrument panel, a premium sound system with Carver technology for powerful bass reproduction, and an integrated hands-free phone.
The BMW Z4 roadster will be available for sale in the US market this fall, then will make its appearance in Europe in spring 2003. As before, the new roadster will be built in Spartanburg, SC.
(11. July 2002)