The Web for Automotive Professionals & Car Enthusiasts
---
Related Topics:
---
BMW Concepts
---

BMW Z9


Z9 convertible

X Coupe Concept
---
BMW Cars
---

Testdrive BMW 6

BMW Z4

7 Series 2002

3 Compact

3-series

BMW M3

BMW 7 Series


BMW X5

BMW Z8
---
MINI
---
BMW MINI
© 1998 - 2007 Copyright &
Disclaimer
Automotive Intelligence,
www.autointell.com
All Rights Reserved .
For questions please contact
editor@autointell.com
---
---
---
BMW : Product Development
BMW has various sources for research and product development:
A well known BMW location is the Engineering Center (FIZ) in Munich. This institution was launched in 1987, implementing the idea of co-location. Co-location stands for bringing together all people into one site, who are concerned with the product development process, incl. suppliers. Nowadays about 5,000 researchers, engineers and technicians are working at the FIZ.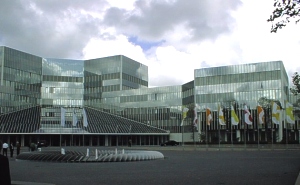 A design studio in California, which provides trendy designs from one of the most creative places of the world.

A project team in Japan, which serves as an antenna into Japanese technical developments.

BMW-Technik GmbH, which was launched in 1985 and is responsible for idea generation off-site, equipped with own design facilities, acoustic wind tunnel and various other facilities for noise reduction. This company employs about 100 people.
---
---
The FIZ in Munich is designed like a network, so that everybody involved within the product and process development process can easily link to each other. Suppliers have permanent locations within the area.