.
.
.
..
.
.
.
© 1998 - 2004 Copyright &
Disclaimer
Automotive Intelligence,
www.autointell.com
All Rights Reserved .
For questions please contact
editor@autointell.com
.
---
---
Lamborghini : The Diablo 6.0 SE
(Part 1)

| | |
| --- | --- |
| The new Diablo of the third millennium is a substantial leap forward, compared to the MY 99, presenting many technological improvements such as: | |
body mainly in carbon fibre

new 6 litre engine

wider front and rear tracks

improved exhaust system

new 32 bit microprocessor for the engine management system

upgraded chassis

completely redesigned interior

new air conditioning system.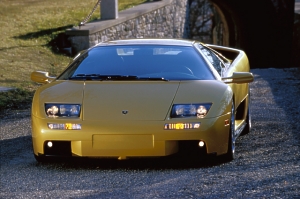 Click image for larger view
The Diablo 6.0 sets a new benchmark for the high performance sports cars. The only comparison can be made to the Diablo MY 99 with an increase of the engine capacity of 285 cc, to 5,992 cc, delivering 20 hp more, reaching then a maximum power of 550 hp (USA version: 540 hp). The torque is even better with 620 Nm at 5,500 rpm instead of 605 Nm compared to last year model. In line with the Lamborghini tradition many technical improvements have been made to the engine management system, to the chassis, to the suspensions and to the exhaust system.
Also in line with the tradition is the body design of the car which has been modified in the front with a new bumper and spoiler, and wider fenders to house the wider front and rear tracks.
| | |
| --- | --- |
| Click image for larger view | The entire body is now built in carbon fibre except the doors which for safety reasons are in aluminium and the roof which is made out of steel, as it is a structural part of the chassis. |
The chassis has been reinforced with carbon fibre inserts increasing the torsional rigidity of the structure.
The new 6 litre V12 engine gives an output of 550 hp, 405 kW, (USA version: 540 hp, 397 kW), at 7100 rpm with a maximum torque of 620 Nm at 5500 rpm. It is equipped with a variable intake valve timing system (derived from the well proven one already used in the Diablo MY 98 and MY 99) in order to guarantee good charge efficiency and good torque not only at high r.p.m. but also at low speed. The new 6 litre V12 engine is equipped with titanium connecting rods and a lighter crankshaft to improve performance. The exhaust system has been redesigned to reduce the back pressure and integrates the Lamborghini ENCS system for noise control.
Go to Part 2: Engine, Transmission & Interior
all photos: Lamborghini
---
---
.