.
.
.
..
.
.
.
© 1998 - 2006 Copyright &
Disclaimer
Automotive Intelligence,
www.autointell.com
All Rights Reserved .
For questions please contact
editor@autointell.com
.
---
---
Lamborghini Automobili S.p.A., Sant´Agata Bolognese, Italy
In July 1998, Audi AG took over the Italian sports car manufacturer Automobili Lamborghini S.p.A., based in Sant' Agata Bolognese. Former owners were the Malaysian holding company Mycom Setdco and the Indonesian company V'Power Corporation.
This acquisition means that Audi will also be represented in future in the super sports car segment. It will nevertheless strive to preserve Lamborghini's specific national identity.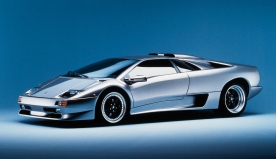 Lamborghini currently manufactures various versions of the Diablo with V12 engine, and also builds engines for power boats competing in the
Class 1 off-shore championship.
In 2000 around 440 people are currently employed by Lamborghini.
Since the start of production in 1963, it has built more than
8,000 sports cars.
In 1997, Lamborghini supplied 291 vehicles to customers worldwide.
---
---
..